'Bermaspewi' Tour
Captain - Evie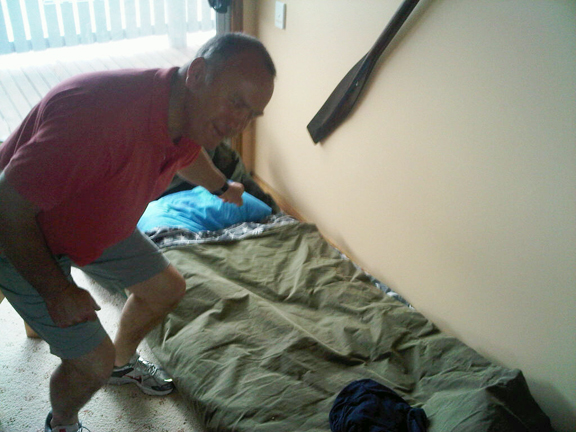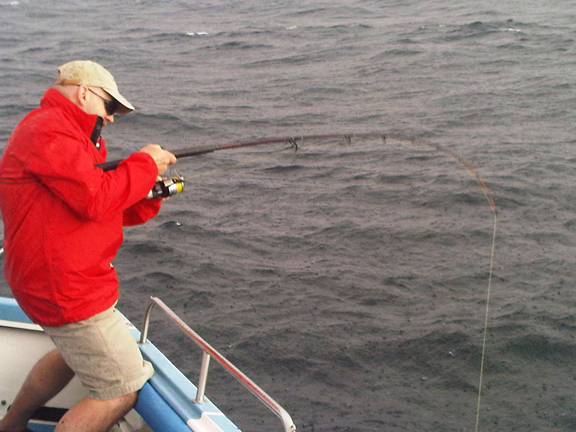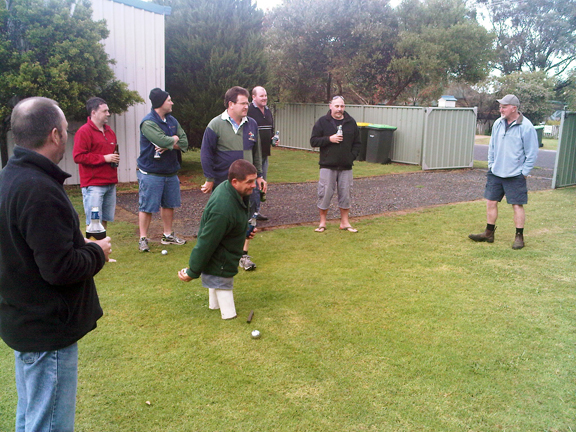 Captains Chronicle (aka ramblings of Evie)
Bull Crew 2011 was a highly successful trip to the NSW south coast.
Despite some significant acts of insubordination, the Captain on the whole kept his cool, but as one wit observed, hadn't had to make so many decisions since the sex change operation….
In an attempt to get the captain to bite Kristina Keneally was a constant bait. However unlike the Ranga from Canberra who gets the Captains blood boiling every time ( except in the underdurps), Kristina is a pretty puppet head who is something of a tasty trollop! Better research next time Planet.
Friday
After all were firmly ensconced at the Anglers Rest, last years Captain Hilly of Bemm River fame handed over the baton to Captain Evie to begin Bull Crew 2011 Bermagui. No speeding fines and Magic was back behind the steering wheel this year so all was in order.
A brief introduction and gee up of the members for the benefit of the landlord Glen (and the Captains own self amusement, if nobody else's) followed.
After some stuffing around the International member of the crew was finally found, by phone, apparently on the couch and hung-over from a highly unusual (not!) late night out in NYC! Upon said contact, Pickles was duly awarded, in absentia, last year's Bull Crew Cup for his outstanding performance.
This years memento, commemorative Bermi stubby holders were handed out and Baz was presented with a replica of his new T-shirt from Huggy along the lines of "don't do it son" in reference to his lack of ability to ward off the marriage bug.
Baz was also awarded the Footy tipping prize of a hat! Don't lose that hat Baz!
By this time drinking was under way and I can't remember a lot else.
Fishing
After Saturday morning Bacon and Eggs deluxe, fishing was the order of the day. Bush Spud and Glen tried out Bushes boat while Magic, Hilly Baz and Joff tried the surf, not a lot of luck on either account but great weather for it, cool and overcast. The Captain marvelled at Baz's ability on casting that bloody surf rod. Bit like golf, timings off a touch and you'll be rooted. Captain, not so good.
Espirit Charter: Six brave souls set out on an 8 hour cruise but unlike Gilligan some didn't quite manage to make it to full time.
At mid morning Bull Crew base was informed that some of the crew would be offloaded as they were in various stages of green or getting green due to the constant chop. Despite all that an esky full of fish had already been landed which provided that night's dinner.
The cruise did inspire what I believe is this years title though. No offense Spudster, can happen to the best.
Captain unfortunately lost his BC hat on the return journey. Oh, the shame of it all.
Planets Observation - Spud quote – "that's the most expensive spew I've ever had"
Sharting
It was notable that Hilly was not in true form all weekend, having some kind of virus and having to find constant refuge on the throne. Great sympathy was felt by the Captain when informed he couldn't drop the guts on fear of the dreaded shart. Absolutely dreadful predicament on a Bull Crew tour
Trivia Quiz: Once again QuizMaster Planet came up with the goods and provided an in depth, wide ranging spread of questions. The Captain was particularly impressed with the "who's that BC member?" F*cked if I could work most of em out but upon explanation, it provided a window into the extraordinary depths of Planet World.
Do remember that Evies clue was crapper and son, inventor of the modern flush dunny , made sense having been denizen of the Sydney sewers for many years. However so overwhelming and oft occurring is the opening of the Fox ponghole that the BC was unanimous in its selection of Mr Fox for the crapper clue.
Hilly – Honda – postie bikes BC picked Evie
RM Williams - Huggy – moved to the Country. BC picked Spud our most rural resident.
Emirates for Spud being a supporter of the filth.
This included sections on the AFL
Eventually, TEDAS consisting of the usual suspects Hilly, Magic and Spud and eventually Joff after a team member from either side had to be dispensed to the opposition came through with an extremely narrow win. As the quizmaster has power of God in these matters legal advice was not sought.
ROW
The Captain was most amused with the Boffins from either side struggling with some of the Cockroach (ie NSW) questions. Yeah we know you all hate Sydney, so does the captain quite often. Huggy of course had no trouble explaining what goes on in Oxford St. Shows how the AFL /NRL divide still exists.
Bocce: On Sunday afternoon, The Anglers Rests fields of green provided the perfect location for the traditional Bocce heave ho, beer in hand of course. Two five man teams battled it out. TEDAS this time consisting of Magic Hilly Spud Evie and Huggy eventually overcame ROW - Foxy , Glen, Joff, Planet and Baz.
Weekend Food Report: Undeniably Restaurant Quality, always a highlight of the trip thanks to the hard yakka of Baz.
Bush and Glen cooked up a delicious Steak and stir fried vegetables to get the show on the road on the Friday.
Saturday Night was Italian night and Huggy, Planet and Evie combined to put on the pasta and meatball feast which seemed to go down a treat.
Even Master Chef Baz was complimentary of Evies lasagne which gave a great sense of achievement to Evie as it is well known Baz does not dispense with culinary compliments easily given his said Master Chef status.
Sunday Night: A group effort saw a very tasty part of the day's catch of flathead, sea bream and the like grace the Bull crew table. Wonderful.
Monday Night saw Baz saddle up with a superb Enchiladas and Chilli Con Carne festa. Delightful to say the least. Captain particularly liked the Enchiladas.
Planets Observation - Spud quote – "even the vegetarian has a gut"
Arsehole: In Bull Crew tradition an intense game of arsehole took centre stage and immediately the executive, commoners and wipers were identified. Unfortunately the Captain did not take kindly to be an arse hole (which is the demeanour normally reserved for dealing with Sydney drivers and certain members of the opposition in Granville over 35 soccer). Do recall Magic being at the helm for quite a while and lording it over the surrounding scum.
Planets Observation -Baz (perhaps resembling his future relationship status) ended up as the arsehole
Dropping of the guts (Onara): Undeniably this particular skill of the B.C. has not diminished in the last 12 months. And it is not in a lot of other forums, where instead of those who have to hold there toxic discharges in, it a cause of great celebration to "let er rip". Of course there is only one master in this field and he was once again in premium form. It was highly amusing to the bull crew this time that the novice Glen, who was sharing a room with the H2S man and was apparently subjected to "a side of Andrew he hadn't seen before". The Captain found it particularly funny when Glen said after the last night that Baz's beans did not agree with Mr Fox and that "last night was the "crescendo" ". Gold
Planets Observation - Huggy quote – "you should pay carbon tax Bush
Snoring (ibiki): Started off with a blinder on Friday night, so much so that Huggy after surveying his sleeping quarters (shared with Baz and Hilly who were already entrenched in the sleepy zone) reported back to the Captain that "it's a warzone up there". The captain wished him good luck on his fighting skills and reminded Huggy that once he was Captain he might also get his own safe, single berth room.
This was not completely true as the state rooms walk in robe was infiltrated during the night by Magic, mattress and all, having been bloodied in the "ibiki" stakes by first Joff then Spud.
In the morning the Captain announced that this enormous effort had given him an idea (something along the lines of making a song out of the various ibiki) but Bush immediately made comment, as only he can, something along the lines of balls on chins. Hmmm, food for thought.
Planets Observation -apart from a warzone it lead to some very nasty skirmishes never seen before between BC members, e.g. doona pulling (what a low act).
Bowling: In the cool windy conditions of late Monday arvo at the Bermi Country Club, after a couple of tight ends the ROW team of Planet, Evie, Joff and Baz pulled well ahead of TEDAS team of Magic, Hilly, Huggy and the late arriving Spud. A clear victory with R.O.W finally returning to the winners platform. Many a glance was received by the B.C. during the afternoon, not so much for their physical prowess, but for, the undeniable attraction of the BC Hawaii shirts.
In the meantime, Bush had come across some very tight ends of a different variety and was anointing them with the going ons of the Bull Crew.
Later that evening the Crew were admonished as only Bush can for being less than interested in joining the hunt. Evie thought it would have been seen as turf invasion but wrong again.
Planets Observation- Bush quote – "anyone would think it was a fluffy kitten" (when a very nice example of a ladies rear end is on the screen and the BC collectively expressed a satisfying 'orhhhh')
Beer tasting. In a test to see who knows their beer, the Captain had insisted a contest must take place. Bush was the first to be (self) eliminated suffering exhaustion after his dealings with the Austrian tight end earlier in the day while Hilly picked zero from eight in the first two rounds and was second to bite the dust. Huggy then picked four from four to have the Captain very excited and be looking the goods to be inaugural champion while Baz and Spud despite their best efforts dropped out after the next round.
The final four struggled with the dummy bottle mixed in with the three actual beers and Huggy lost form to say bye along with Joff. This left Magic and Planet to battle to the end. An interesting study in style followed with Johnson slamming his three beers down in ten seconds and entering his results while Planet sniffed and sipped and poked and prodded and burped' n farted for about five minutes before giving his answers. The captain was hopeful that such a display of intense concentration and effort would be rewarded with the $40 first prize. Alas his answers were exact same as Johno, - ALL WRONG! "F*ck it" thought the Captain. A tie was declared.
Maybe the lesson being how much we can really taste in the difference of beers after the first few. Start with the good stuff, go on with the cheap stuff.
Thanks go to Glen for his work in help running the contest and making it go so smooth.
2012: The baton was handed to Captain Huggy for next year and to be sure he will have some devious and cryptic plans in mind already. Meat free weekend I hear!? That's sacrilege.
Miscellaneous
It's something to be said of our multimedia world today, some of the crew were entertaining themselves with P*rn on the TV, p*rn on the Ipad and all to the sound of Led Zeppelin or Huey Lewis, can't remember.
Melbourne cup sweep: First place went to Bush on Dunaden, second place to Spud on Red Cadeaux, and third place to Glen on Lucas Cranach.
Planets Obsevation - Johnno quote – "put that music video on again" (Situation Unknown - with the semi clad girls playing with their instruments – I'm sure the BC would offer theirs if given the opportunity)
Notable Quote - Planet (pretending to be Bush when he's on his porn marathon) "I can still hear when I've got a hard on you know"
Just wanted to say thanks to everyone for the various inputs, hope we all enjoyed the weekend as much as I did.