'Did You Get a Shot Off' Tour
Captain - Johno
Vessel - Endeavour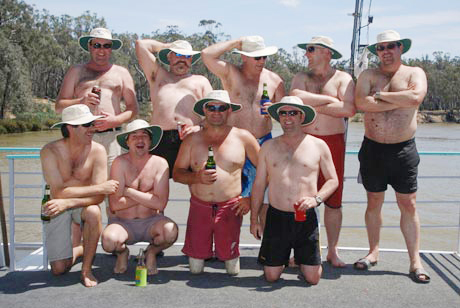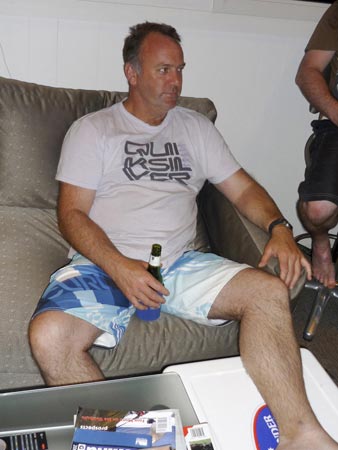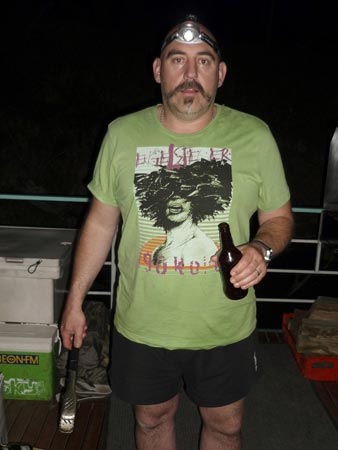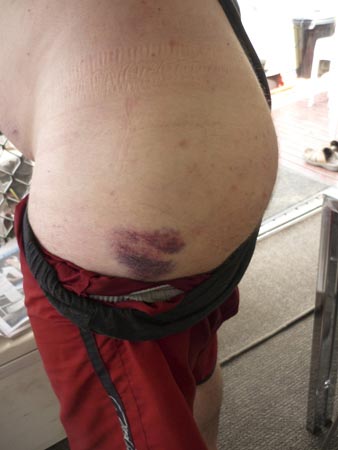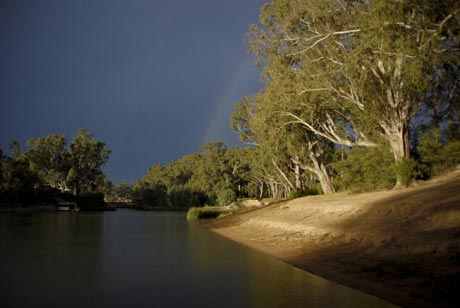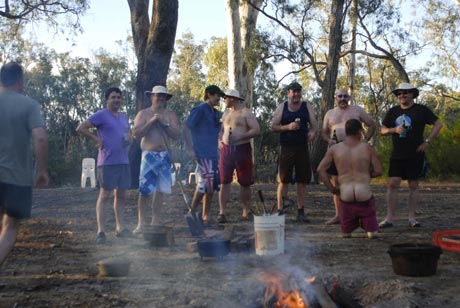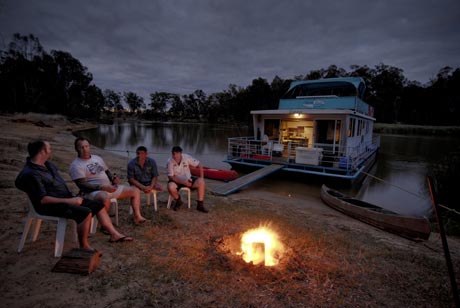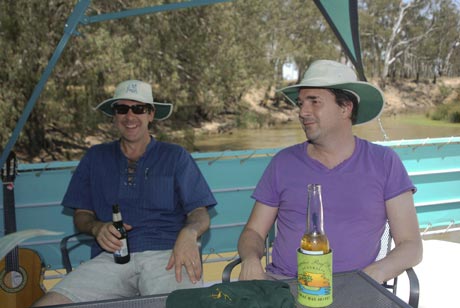 We arrived on Friday and acquainted ourselves with the crew and the vessel that lined up with many and varied other types – the luxury model was particularly appealing but alas we haven't earned that right yet.

Several of the crew went to stock up on goods that would see us through the journey; unfortunately the estimates for food far outweighed the grog requirements, although we did have a couple of extras this voyage which obviously influenced the fluid consumption. Fortunately there were opportunities to restock and all was well with the world on the mighty Murray.

Evie and Spud, Bullcrew virgins, rolled up, threw their gear on board, grabbed a beer and it was time to cast off, fire up the big Endeavour donk and head upstream with Captain Johnson at the helm. With precision the skipper pulled into the first night's mooring applying reverse thrust perfectly to extend the gang plank within centimeters of the shore.

It was odd that having spent the last two voyages in questionable sleeping arrangements Hughesy still decided to share a room with Bush – not sure what's going on there and probably don't want to know.

A sumptuous meal of lasagne and salad was the precursor to the official duties and good ole 'Git R Done' comedy. Last year's captain from the 'Git R Done' Queensland voyage reminisced about previous ventures and introduced the new captain to set the scene for the current sojourn.

The newcomers were welcomed and presented with their caps, hats and last year's Gilligan award was presented to Hughesy. In expectation of Bush falling asleep, a couple of fellas got the fruit and other balanceable items ready only to be surprised by Bush's stamina in staying up late. A stock take of MB cans indicated supply/demand issues were looming.

The boys had a go at fishing the next morning with little to write home about, although Evie did have a good strike, running into something in the tinny up the Goulburn and then hitting it again on the way back.

The weather was beautiful, plenty of activity on the water and there was sufficient beer (or so we thought) and bikini's to keep us occupied. It was a most pleasant journey motoring downstream (note good driving skills by Joffa to keep her steady) whilst the boys were keeping a watchful eye for bikini action.

We returned to base and wandered to the local to pick up more supplies and a few of the lads managed to get a kiss and cuddle from some Echuca locals (of dubious quality).

Saturday night was roast night and we found a nice bend in the river with a high band, perfect spot for a fire and right in the middle of an aboriginal sacred site. As we sat and watched the sun set a young blond ventured upstream in her tinny with VB in hand until she was coaxed to shore by some verbal taunting – "whoa ho, show us your tits". Brooke joined us for a while and shared a few beers with us old fellas, then we settled into a beautiful camp oven meat, roast vegies and red wine followed by a few tunes on the guitar with the words of Rawhide forever changed to 'Head em up, get a shot off, fuck em off, Rawhide'. I think Sykesy may have got the odd mention as well. The MB supplies continued to diminish.

Next morning Spud had an altercation with a local concerned about us using the aboriginal site. Apparently it was used by the Yorta Yorta people, cause the guy said we Yorta not have used that spot and Spud replied, Yorta get fucked mate.

It was upstream direction with again beautiful hot beer drinking weather and we found a spot to tie up and move on shore for the TEDAS verses Rest of the world, Bocce challenge. There had been a lot of banter as to the quality of TEDAS in the 70's & 80's but could they come through with the goods in 2009. Well they come out of the blocks to be leading 12 to 2 after the first 6 ends. The pitch was certainly challenging and it appeared TEDAS had the trophy in the cupboard but then the ROTW started to claw back the difference and the ref started to cop some flak for some hard but fair decisions. It was down to the last end and with the ROTW come through with the goods.

Off the top deck doing bombies it took me back to the big board of the Traralgon pool, and I have the bum bruises to prove it. A couple of the fellas took the tender upstream for more beer (another bruise was encountered by Hilly trying to enter the tinny) and when they hadn't returned by dark we were concerned – did we have enough beer to get through the night. It was a great effort, they did return and we enjoyed a superb BBQ dinner, reassured that grog was aplenty and we embarked on the first Bullcrew quiz. A mixture of previous trip antics, footy, T'gon trivia, school and musical questions got the grey matter working.

The card game 'Arsehole' started with Baz as the incumbent President but ended with Planet in the chair. Evie quote: As president I request one of you to accompany me to the side of the vessel with a pair of tongs. A few other quotes worth a mention:

Johno (as Evie was cleaning up the kitchen) – Evie is chewing his way through the kitchen.

Spud – who killed JFK – Brittany Spears

Bush – Peakin, when are you gonna start peakin you f#@ckin soft c@#ck (In ref to Evie). Poor Evie got a bit of a hammering from the resident bush poet "Banjo Bush".

Bush – Mardi Gra loiterer doesn't mind a bit of rod action (in ref to Evie).
Huggy – How the standards have improved, we're now talking about screwing our mate's mums

Bush – "Prowess of the slug".

Bush greeting – "G'day ……., how'd ya go. Did you get a shot off?

Spud – My big tits don't have anything to do with history

Planet – I think I just shit my pants

Bush – Even if I had feet I wouldn't wear thongs like that (in ref to Evie)


Monday was not a good day for one of the members who spent most of the time in bed, no not Huggy, Planet succumbed to infection and did not participate in any activities. Although I did hear some excitement when there was some 'tits out' action and the boys up top verbally rewarded her for her efforts.

A large crew headed to terra firma for some lawn bowls where Joffa was fine tuning his power bowling technique – good thing there were rubber mats and Baz was eying off some of the blue rinse brigade. It took him back to the days on the cruise ships outrunning the ladies cause they couldn't move their zimmer frames fast enough. Baz must have been inspired as he cooked up a magnificent lamb curry. Evie headed for home like a man possessed with good reason, 'home at 3.30am, got a shot off at 7'.

A bit of fishing paid off with Hilly pulling a very nice Yellow Belly, although Johhno and Baz tried to impress by hooking the biggest tree in the vicinity. Almost back to base when we struck trouble – who was at the wheel you ask – the captain of course and we lost power luckily drifting to the houseboatless side of the river. Again the team worked well to watch as the rope was removed from the prop by Hilly & Bush and we were back to base. Joff, Hiily, Huggy and Planet headed off to leave Johno, Baz, Spud and Bush to wind down the trip. Would there be enough MB to get through the night.

What a great trip, with a great crew and great weather. Well done Johno, thanks to Joffa for the lift in the Disco via Romsey, Lower Romsey, South Romsey and Upper Left Romsey and good luck Hilly on next year's voyage, which I'm sure we're all looking forward to doing it all again – Did you get a shot off?